History may well have been made in the Province of South Essex when, on Friday, March 17th 2017 three brothers, no less, became Princes in the same Rose Croix Chapter.
On that evening, acting Most Wise Sovereign – Ill∴Bro. Christopher Jones, 31°, assisted by the Chapter's Recorder – Ill∴Bro. Laurence Jones, 31° – Perfected, with other members, their brother Nicholas Andrew Jonathan Jones, PPGStdB (Essex) into the St. Katharine's Chapter of Knights of the Pelican and Eagle and Sovereign Princes Rose Croix of H.R.D.M. No. 608, at Rochford Masonic Hall; in the presence of some 30 members and guests.
As quipped that night, perhaps the Chapter should now be renamed "The Jones Chapter".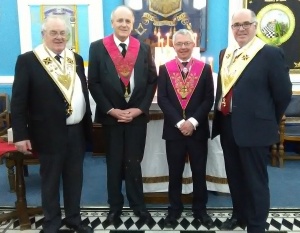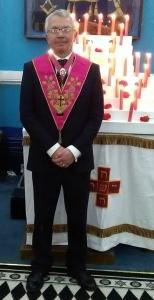 It was also an unusual meeting in that the present District Recorder , Ill∴ Bro. Eric Terry, 31°  and his two predecessors also attended.