The Chapters of the Rose Croix District of South Essex enjoyed the support and direction of V.Ill. Bro. Paul Tarrant, 33o as Inspector General from February 2017 until his appointment as R.W. Provincial Grand Master and Most Excellent Grand Superintendent for the Province of Essex in May 2021. The Supreme Council were pleased to appoint V.Ill. Bro. John Hubbard, 33o as his successor. Unfortunately, owing to the disruption to meetings associated with the Covid pandemic V.Ill. Bro. John's installation was deferred. However as soon as meetings were resumed V.Ill. Bro. John swiftly settled into his new position and was very warmly received when visiting the Chapters within the District.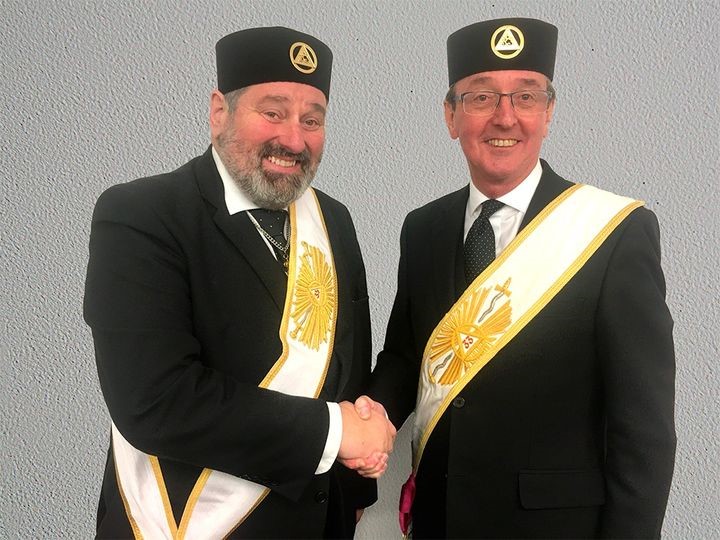 Finally, an installation date was fixed for 24th January, 2022, and on that day almost 100 members of the District of South Essex, visiting Inspectors General, District Recorders and the Heads of various other Orders attended Hutton Masonic Hall to witness the installation ceremony.  The meeting was hosted by John's own chapter, Hutton Chapter No 680, and an outstanding ceremony was conducted by members of The Supreme Council, led by the Sovereign Grand Commander, M.P. Bro. Guy Elgood, 33o.
At the festive board following the installation the installing officers were presented with gifts as a token of appreciation for the excellence of the ceremony. On behalf of the members of the District, the new Inspector General then presented V.Ill. Bro. Paul Tarrant with some gifts to mark their appreciation for his service throughout his term in office.